I have fulfilled my exercise walking quota today – by walking from computer shops to locksmith's shops to electricity supply shops.
The objective of my search?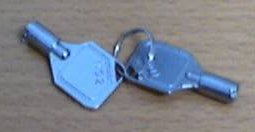 Those keys are used for locking PCs against turning them on by accident, and they also lock disk trays in bays which allow disks to be swapped.
My PC has two such trays, and yesterday I broke the last good key, as I was swapping disks a lot, in an attempt to make a new disk bootable.  So I need few new keys, and more important – a supplier to whom I can turn in the future if I need even more keys.  Locksmith shops are one natural place for finding such keys, but two locksmith shops, which I visited had no such a thing.  PC repair shops should have a stock of those keys as well, but the places, which I visited, had none.
If I don't find a supplier for those keys, I may have to resort to opening the computer case – not once but several times. 🙁